Louise Bessette Receives Honorary Doctorate from Western University
Video link
Louise Bessette 20 juin 2016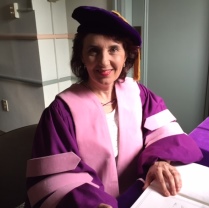 INTERNATIONALLY ACCLAIMED PIANIST HERALDED AS A LEADING LIGHT IN THE INTERPRETATION OF 20TH AND 21ST CENTURY MUSIC
For Immediate Release, June 20, 2016 -- This morning, pianist Louise Bessette received the degree of Doctor of Music, honoris causa, from Western University in London, Ontario. The Montreal pianist is recognized for her accomplishments as "can internationally recognized performer and leading light in the interpretation of 20th and 21st century music, and for her significant impact in the contemporary world of classical piano."
Louise Bessette is one of today's pre-eminent interpreters of the music of our time. Possessing a unique combination of eclectic repertory and impeccable delivery, Bessette has been hailed as "a 20th-century specialist of penetrating insight and unerring technique" (The Gazette) and is praised for her "playing of genuine grandeur" as well as "astonishing reserves of controlled, relaxed virtuosity" (The Music Times, London). Bessette performs regularly in concert halls throughout Europe, Asia, North and Central America and her artistry can be heard on over twenty recordings. Louise Bessette has performed more than 40 world premieres, including many works written expressly for her by Quebec's most notable composers. She was named Ambassador of the Canadian Music Centre in 2009.
Beloved by Quebec audiences, Louise Bessette received her eighth Prix Opus this year. In 2015 she received an exceptional honour when she was named by Le Conseil québécois de la musique as the winner of the Prix Opus for Interprète de l'Année / Artist of the Year.
Louise Bessette is particularly admired internationally for her interpretations of the music of Olivier Messiaen. Next month, on July 2 and 3, she will be featured in two recitals in homage to the French composer and his heirs (France-Québec) at the inauguration of the Maison Messiaen in Pétichet, France. As proclaimed by the Journal de Genève: "In Louise Bessette, Messiaen has found his most inspired modern-day interpreter, undoubtedly for many years to come."
Among Bessette's upcoming projects is the release of the new recording of Concertango grosso by François Dompierre for the ATMA Classique label in September. The world premiere performance with Bessette and the Appassionata Chamber Orchestra, conducted by Daniel Myssyk, took place in March at Salle Bourgie in Montreal.
Born in Montréal, Louise Bessette began studying piano at the age of five. Following her studies at the Montréal Conservatory with Georges Savaria and Raoul Sosa, and in New York with Eugene List, Bessette set her sights on Paris where her mentors included Yvonne Loriod, Claude Helffer, Jay Gottlieb and Dominique Merlet. Her early career was launched by winning such prestigious honours as First Prize at the Eckhardt-Gramatté Music Competition in (Canada, 1981), where she returned as a member of the jury this year, First Prize at the Concours International de Musique Contemporaine in Saint-Germain-en-Laye (France, 1986), and both the First Prize and the Special Prize for Piano at the International Gaudeamus Competition (Rotterdam, 1989). Louise Bessette is a Member of the Order of Canada, and Officier of the Ordre national du Québec. She is Professor of piano at the Conservatoire de musique du Québec à Montréal.
Shira Gilbert
shira@shiragilbertPR.com
www.shiragilbertPR.com
514.585.3868
Other releases: