Pianist LOUISE BESSETTE Begins 2013
with two UK Recitals, a New Recording & two Prix Opus Nominations
CD of Works by Schnittke with Quatuor Molinari available on ATMA Classique January 29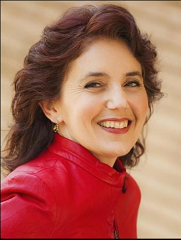 For Immediate Release, January 15, 2013, Montreal, QC ... The supremely elegant and unpredictably adventurous pianist Louise Bessette, hailed internationally as one of the pre-eminent interpreters of the music of our time, launches into the new year with concerts abroad, accolades at home and a striking new recording.
Following recent successful concerts in Toronto, Ottawa, Montreal, San Francisco and at Monterrey, Mexico's Festival Internacional de Música Contemporánea, Bessette will be heard in two solo recitals in the UK. The first, part of the prestigious Sunday Morning Piano Series at Nottingham Royal Concert Hall on January 27th, will feature music by Sir Arnold Bax, Fauré and Brahms, as well as Ernesto Lecuona's thrilling Suite Andalucia. On January 30th, she will be heard at The Church of St. John the Evangelist in Oxford in an all-Spanish program, featuring music by Turina, Albeniz, Piazzolla and Spanish-born Canadian composer Jose Evangelista.
Louise Bessette is a double nominee for Le Conseil québécois de la musique's Prix Opus. Her extraordinary, marathon 30-year Career Celebration of March 31, 2012, presented by Société de musique contemporaine du Québec (SMCQ) and which featured four world premiere, is nominated for "Concert de L'année - Montréal" as well as "Concert de L'année - Musiques Moderne, Contemporaine." The winners will be announced at a Gala evening at Salle Bourgie in Montreal on Sunday, January 27th.
January 29 marks the release of a new recording with Quatuor Molinari for ATMA Classique featuring music by the stylistically-varied and intense Russian composer Alfred Schnittke. Bessette joins the string quartet for Schnittke's 1988 Piano Quartet and the 5-movement Piano Quintet (1972-76).
Bessette also performs regularly with her chamber ensemble ARTefact which includes cellist Yegor Dyachkov, Simon Aldrich, clarinet and now welcomes a new member: violinist Carissa Klopoushak.
* * * * *
LOUISE BESSETTE can be heard on over twenty recordings across ten labels. She has performed almost 40 world premieres, including many works written specifically for her. Louise Bessette is a Member of the Order of Canada, and Officier of the Ordre national du Québec.
- 30 -
Other releases: