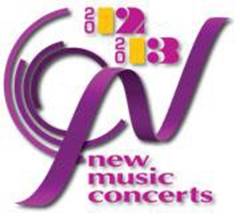 A tribute to Gilles Tremblay
Louise Bessette, piano
"A 20th-century specialist of penetrating insight and unerring technique"
Saturday, April 27 at 8PM - Gallery 345
For Immediate Release - Toronto, April 5, 2013: New Music Concerts concludes its 2012/13 season with an intimate piano recital. A Tribute to Gilles Tremblay is a program devised and performed by pianist Louise Bessette in honour of Tremblay's 80th birthday. The evening features music by Gilles Tremblay, Michel Gonneville, Silvio Palmieri and Walter Boudreau.
Québequois composer Gilles Tremblay is a highly respected figure in Canadian music as a composer, educator (he taught at the Conservatoire de musique de Montréal for the better part of four decades), electronic musician, and as an expert player of the ondes Martenot. As part of this recital, Louise Bessette performs four of his works: Phases, Réseaux, Traçantes (auprès, au loin...) and Musiques de l'eau.
An exhilarating and elegant concert pianist, Louise Bessette is recognized internationally as one of today's pre- eminent interpreters of the music of our time. Possessing a unique combination of eclectic repertory and impeccable delivery, Bessette has been hailed as "a 20th-century specialist of penetrating insight and unerring technique" (The Gazette, Montreal) and is praised by critics for her "playing of genuine grandeur" as well as "astonishing reserves of controlled, relaxed virtuosity" (The Music Times, London).
Louise Bessette is the recent winner of two prestigious prizes from Le Conseil québécois de la musique. In January, the pianist was declared the winner of the Prix Opus for "Concert of the Year-Montreal" as well as "Concert of the Year-Modern and Contemporary" for her extraordinary 30-year Career Celebration of last March, presented by Société de musique contemporaine du Québec (SMCQ), in collaboration with Chapelle historique du Bon-Pasteur. The multi-faceted three-part concert included four world premieres written for the occasion, along with music by her signature composer, Olivier Messiaen.
Michel Gonneville's Volées. Carillons d'oiseaux in 2010 was written as a tribute to Gilles Tremblay (his teacher and mentor). Gonneville dedicated the piece to Louise Bessette, who premiered it that year, adding that she is an "exceptional interpreter of Gilles Tremblay's music, as well as Olivier Messiaen's music - who was also Tremblay's mentor." He adds that "the Tremblay-birds-Messiaen combination naturally imposed itself."
Silvio Palmieri's Prélude XI : Elevazione (Disperate vibrazioni raschiano il silenzi- Desperate vibrations scratch the silence) was written in 2010 and dedicated to Louise Bessette, who commissioned and created it. Palmieri simply writes « To Gilles Tremblay, my mentor, my friend ».
The evening concludes with Walter Boudreau's immense cycle, Les planètes. This suite is part of a series of works subtitled "The Gnostic Circle." The colourful musical exploration of nine planets from our solar system was composed over a number of years and recently revised (1983-1998-2011), and dedicated to pianist Louis- Philippe Pelletier, who commissioned the work. Walter Boudreau is Artistic Director and principal conductor of the SMCQ Ensemble since 1988.
Louise Bessette can be heard on over twenty recordings across ten labels. She has performed almost 40 world premieres, including many works written specifically for her. Louise Bessette is a Member of the Order of Canada, and Officier of the Ordre national du Québec. For more information, please see www.louisebessette.com
Programme:
Gilles Tremblay: Phases (1956) Gilles Tremblay : Réseaux (1958)
Michel Gonneville: Volées. Carillons d'oiseaux (pour Gilles Tremblay) (2010)
Silvio Palmieri: Prélude XI : Elevazione (Disperate vibrazioni raschiano il silenzio) (à Monsieur Gilles Tremblay) (2010)
Gilles Tremblay: Traçantes (auprès, au loin...) (1976)
Gilles Tremblay: Musiques de l'eau (2008)
INTERMISSION
Walter Boudreau: Les Planètes (1983-1998-2011)
I Mercure II. Le Soleil III. Re-Mercure IV. Vénus V. Terre VI. Re-Soleil VII. Mars VIII. Jupiter IX. Saturne X. Uranus XI. Neptune XII. Pluton XIII. L'espace, l'infini
A tribute to Gilles Tremblay
Louise Bessette, piano
Saturday, April 27
Gallery 345 Illuminating Introduction at 7:15PM; Concert at 8PM
TICKET INFORMATION
Individual Tickets: $35 (regular)/$25 (seniors/arts workers)/$10 (students) Prices include 13% HST.
Box Office: 416 961-9594
New Music Concerts: 157 Carlton Street, Suite 203 Toronto ON M5A 2K3 416.961.9594 / fax 416.961.9508
nmc@interlog.com / www.NewMusicConcerts.com
New Music Concerts gratefully acknowledges the support of The Canada Council for the Arts; Toronto Arts Council; The Department of Heritage through the Canadian Arts Presentation Fund; The Province of Ontario through the Ontario Arts Council, the Ontario Arts Foundation Endowment Fund and the Ontario Arts Investment Fund; The Koerner Foundation; The Mary-Margaret Webb Foundation; The Max Clarkson Family Foundation; The McLean Foundation; The SOCAN Foundation; The Amphion Foundation Inc.; Roger D. Moore; Edward Epstein and Gallery 345.
Media contact:
Francine Labelle/flINK 416 654-4406
labellefrancine@rogers.com
Other releases: