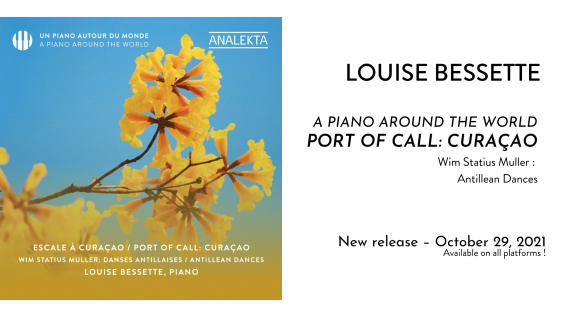 With Port of Call: Curaçao, talented pianist Louise Bessette pays tribute to composer Wim Statius Muller, whose works owe a great deal to Frédéric Chopin. Chopin's music inspired local musicians to compose a "Caribbean mazurka", which was long the national dance of Curaçao and marked the birth of classical music in the Netherlands. This influenced a long line of composers, including Jan Gerard Palm, Joseph Sickman Corsen and Jacobo Palm.
Marking the 40th anniversary of her musical career, the pianist is launching a new series of albums: A Piano Around the World. "Travel has always been a tremendous source of discoveries for me. Nature and places have greatly inspired composers all over the world in every era. Voyages and foreign stays are reflected in works full of atmosphere and imagination," Ms. Bessette explains.
Although, for the most part, Wim Statius Muller's music is based on folk dance rhythms, the waltzes and other dance tunes by "the Chopin of Curaçao" are nevertheless garbed in the fine attire of concert music. This cultural duality could also apply to Louise Bessette. While Chopin was born between French and Polish cultures, and the inhabitants of Curaçao are divided between those of the West Indies and the Netherlands, Bessette also has her feet in two different worlds. One is set in the contemporary music of Giacinto Scelsi, Olivier Messiaen and Walter Boudreau. The other dances are set to music based on popular tunes that inspired Astor Piazzolla, Robert Berkman and Isaac Albéniz.
For both composers and performers, it almost takes an alchemist to forge a natural connection between "great music" and that of the people. Wim Statius Muller achieved this in his music, and Louise Bessette serves him magnificently.
Musician David Dubal, who studied with Muller at Ohio State University, convinced him to record some of his music in 1998 under the title Antillean Dances. On this album, Louise Bessette has recorded all 22 pierces from the collection. She is the first to do so. In Muller's performances of his own music, he allowed himself to alter certain rhythms, improvise, and slip in a few "blues notes", as if, of course, the composer's privilege. But it is the extraordinary musician Louise Bessette who gives these dances the "royal treatment", offering precise and exceptionally clear performances.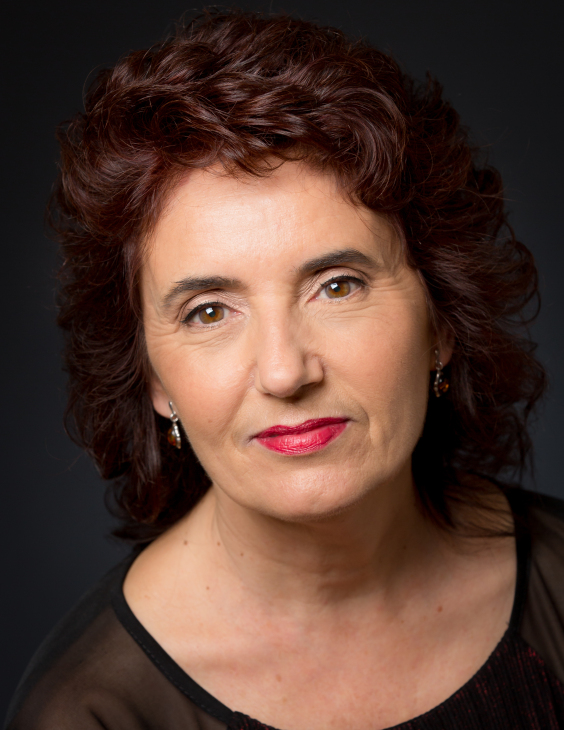 About Louise Bessette
For forty years, Louise Bessette has pursued an outstanding career, characterized by the excellence of her performances, earning many laudatory reviews. In 2019, she received the Lifetime Artistic Achievement Award in Classical Music from the Governor General's Performing Arts Awards, Canada's highest honour in the performing arts. In 2016, the University of Western Ontario conferred a degree of Doctor of Music, honoris causa to celebrate her international career.
As a pianist with an eclectic repertoire, eager to promote exchanges with other art forms, Louise Bessette recorded works by Alkan and Grieg for a film soundtrack. In 2021, she received her tenth Opus Prize from the Conseil québécois de la musique in 2021. In 2015, she was listed as one of Canada's top 25 pianists by CBC Music.
Her other multiple awards include: first prizes at the Eckhardt-Gramatté National Music Competition (1981), the Concours international de musique contemporaine (Saint-Germain-en-Laye, 1986), and the international Gaudeamus Competition (Rotterdam, 1989), and the Prix Québec-Flandre (1991). She is a member of the Order of Canada (2001), an Officer of the Ordre national du Québec (2005) and Canadian Music Centre Ambassador (2009). Louise Bessette has been a professor of piano both here in Montréal and in Europe and Asia.
---
About Analekta
Founded in 1987 by François Mario Labbé, Analekta is the leading independent classical record company in Canada. It has produced over 700 albums, recorded more than 200 musicians among the most visible in Canada, and received many awards. In 2021, the works in the Analekta catalogue reached 300 million streams on international streaming platforms.
---
Information and interviews
France Gaignard
514-616-7705
france@francegaignard.com
Other releases: